The Orange 5G Labs from Bucharest and Iasi include technologies that will be available in the commercial network in the future, but in the present can only be tested in a lab environment.
We are constantly developing the equipment, platforms and devices that you can access in the 5G Labs so that you will always be working on the newest technology.
Network infrastructure
5G Standalone Private Mobile Radio - the core component of the 5G infrastructure from the Bucharest Orange 5G Lab
5G Standalone Virtualized User Plane Function – local component from the Iasi Orange 5G Lab that processes the traffic from the 5G infrastructure users and enables the connection to the core network from the Bucharest Orange 5G Lab
5G New Radio - the radio component of the 5G infrastructure
Open RAN and Open CORE components based on the separation of the software from the hardware, allowing the virtualization of the radio or core network and offer the capability to run the system on CoTS (Commercial-of-the-Shelf) equipment and on open interfaces
Edge Computing plays a key role as a technology that allows to reduce the distance between users (applications) and services (data) and facilitates guaranteed latency and transmission throughput, as they are solicited by services and applications
The lab network architecture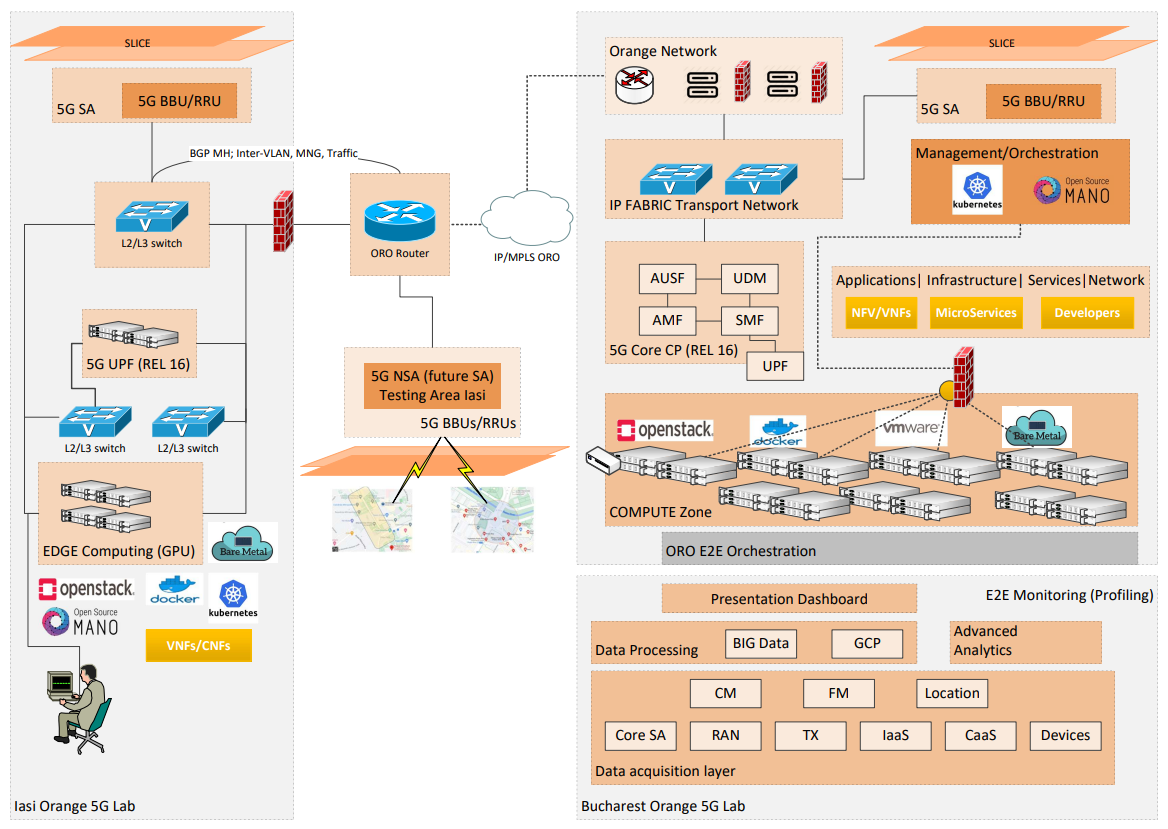 Available equipment, devices and platforms
IoT programmable modules - Capabilities WiFi 802.11b/b/n, Bluetooth v4.2 BR/EDR and BLE, cellular LTE-CAT M1/NB1 3GPP release 13 LTE Advanced Pro, LoRa Class A and C devices
Sensors for IoT applications
Semi-anechoic chamber to test mobile devices
M2M SIM cards
5G SIM cards
Programmable 5G modules
5G development boards for prototyping activities
WiFi6 routers
Routers that connect to 5G to offer WiFi connectivity for users
5G surveillance cameras
Access to the Orange Live Objects platform to collect data from IoT devices
Platforms developed in Horizon 2020 research projects like 5G-EVE, 5G-VICTORI, 5GASP and VITAL-5G.